For applicant in Waseda Architecture
Overview


Learning the integration of art and technology that creates the foundation of human life
The department of architecture has a longest history as a private architectural university in Japan. Since the establishment of the department in 1909, it has produced many excellent architects and engineers have been highly evaluated both in Japan and overseas.

Our program has met the UNESCO/UIA Architectural Education Charter (established in 1996) it requires more than more than 5 years of specialized architectural education, by implementing a consistent 6-year curriculum for undergraduate and graduate schools since 2000. Since 2007, it has been compliant with the Japan Accreditation Board for Engineering Education (JABEE) as well as international accreditation standards. And Japan and its accreditation has officially joined "Canberra Accord" since 2019.

You can still graduate from the undergraduate program in four years, and you will be able to meet Canberra Accord by receiving 2 years more education in graduate school.

We have only Japanese based undergraduate program. If you wish to join the undergraduate school, please see the detail of admission for Japanese program.

Move here to see the admission detail of undergraduate school


In graduate school, we have Japanese and English based programs for Master degree and doctoral degree. please see the detail of admission for English based programs.
Move here to see the detail
Classes of department of architecture
Class
The Department of Architecture (Under graduate and graduate school) consists of the fields of architectural arts and architectural engineering.
Architectural history teaches a wide range of architectural expressions and techniques of each era, and the relationship between society and architecture.

In recent years, we have also been working on the restoration and preservation of overseas historical heritage sites such as Egypt, Angkor in Cambodia and Hue in Vietnam.

Architectural design focuses on practical design exercises by faculty members who are active as professional architects, and aims to train architects and planners who contribute in Japan and abroad.

In urban planning, based on thorough on-site exercises, we will conduct practical research from urban design to community development with citizen participation, as well as develop human resources for establishing professional skills.

Environmental engineering researches technologies and theories of building equipment, building environment, urban environment, disaster prevention engineering with the aim of improving indoor and urban comfort, disaster prevention, and solving energy problems.

In order to ensure the safety of buildings, the building structure is extensively researched from earthquake engineering, seismic resistant structure, vibration engineering, elastic mechanics, curved structure, soil and basic engineering to structural reliability, structural control, seismic control structure, seismic isolation structure.

For building materials and construction, we study the issues directly related to the practice such as the development of new materials, new construction methods and construction techniques, and production management.

Through the undergraduate and graduate schools, from 2007, we will start a new curriculum aiming for JABEE (Japan Engineer Education Accreditation Organization) education certification for a total of 6 years of undergraduate and graduate master's programs, and will further enhance education.
(The curriculum is organized based on a consistent vision of the 6 years of undergraduate and graduate school, but it does not mean that the undergraduate school and the graduate school are integrated. It is possible to graduate in 4 years and go into society as before. You must pass the exam to proceed to.)
Overview of our curriculum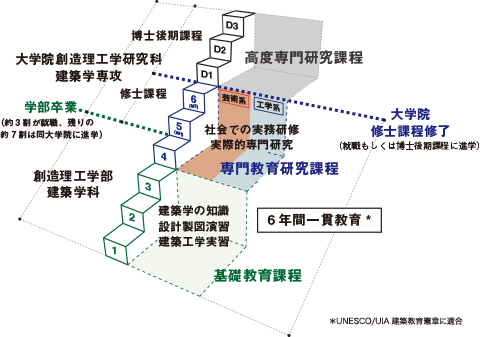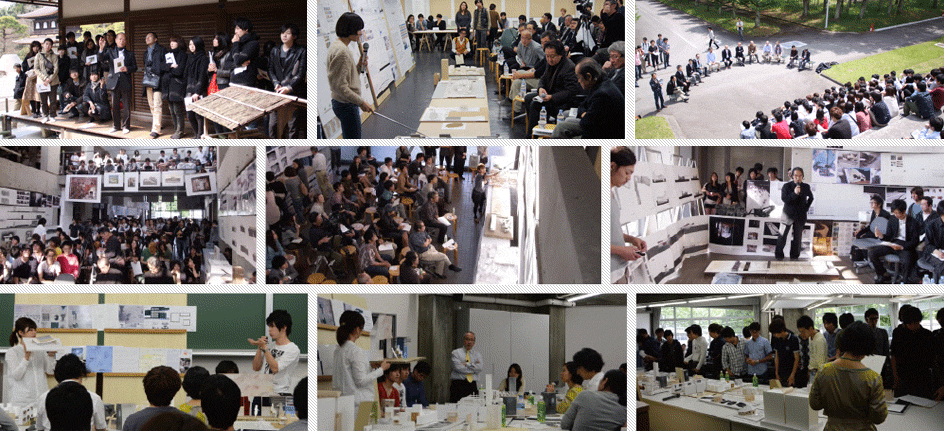 Environment
The campus also has a well-equipped environment for the teaching and research of architecture.There are facilities and spaces to support various learning and study activities, such as large classroom, drawing rooms for hand drawing, CAD, and information literacy; architectural studio for lectures and exercises;workshops, machines, and laboratories for testing building materials; the latest computers and output systems; and reference facilities mainly consisting of the Library of the School of Science and Engineering with over 400,000 books. There are over 600 personal computers and workstations installed in the Nishi-Waseda Campus of Waseda University, which are used for lectures and are also available for open use. The network within the campus is high speed and provides Internet access from courtyard, each classroom, laboratory, and office.
Drafting Room

Design Studio

The No.57 building Stairs classroom/figcaption>

Murano Memorial Library

The No.55 building atrium

Courtyard

Science and Engineering Library

Material Engineering Laboratory

Woodworking room

Students Lounge
Laboratory
History of Architecture
中谷礼仁研究室

Norihito NAKATANI Laboratory

The past "was not" there, but rather "is" there. History never ceases to influence the present. Study of architectural history must be updated to "Archiology", and even beyond to "Eco Life Mode". We study the state of human life in the midst of the amalgamation of varying historical environments, which even extend to include the planetary time scale. In this laboratory, the past and the future commingle. Examination of cosmopolitan Millennium Villages with coordination between ecology and ethnology; Research of Utopia to historically verify the life of the future; and Rearranging of historical matters with new social principles.

小岩正樹研究室

Masaki KOIWA Laboratory

The primary objective of the laboratory is to achieve the study on architectural history, and to inherit and develop the study of architectural history in Waseda University. The basic research approach involves the architectural design techniques that serve as a historical and principal agent for the expression and the system of construction. The laboratory members study in architecture and its history in the traditional and modern era of Japan, the Occident and the Orient, the Southeast Asia and the East Asia. Study methods include the comprehension of architectural textbooks (especially Japanese traditional architecture books : Kiwari-Sho), on-site field surveys, and the preservation works of world heritage sites.
Architectural Design
古谷誠章・藤井由理研究室

Nobuaki FURUYA・Yuri FUJII Laboratory

The laboratory studies how the living space of people should be built based on the people-architecture, architecture-cities and cities-natural environment relationships. The laboratory makes researches on various space design methods to create new architecture, by learning culture and past examples. In order to develop observation, foresight and ability to present architectural design to society expected of architects, students and teaching staff jointly participate in architectural design and workshops in and out Japan for practical education and research.

宮本佳明研究室

Katsuhiro MIYAMOTO Laboratory

We treat the memory of a place carefully and explore the ideal way of architecture that is intimate to people and the "Terroir". We also aim to create new architecture and spaces by adaptive reinterpretation of the various social systems that surround us.
Through the concept of "Do-Ken marriage" that considers civil engineering and architecture in an integrated manner, and the analysis of "Environmental noise elements" that can be said to be the failures within the landscape that modern urban design aimed towards, we study how the actual landscape is formed.

渡邊大志研究室

Taishi WATANABE Laboratory

We make deep analysis on the contiguous zone between various social phenomenon and architecture to present architectural culture from the ancient times as a more open system. Through cultivation of a path that actively engages architectural design such as the historical designs with history in a broad sense and history of modern cities, it is intended to establish an image where architectural designs lead various elements of the contemporary society, such as information and environment. By polysemically interpreting urban infrastructure, our researches are expended into the fields of farming villages, gardens and mobility.

小林恵吾研究室

Keigo KOBAYASHI Laboratory

Given the shrinking society of this country leading the world with numerous social issues, we are focusing on investigating how the wide means of architecture and architectural thinking can contribute to the future living space, city and society, through researches, surveys, analysis and visualization. In order to reflect global field of vision and wide knowledge into those researches within the field of information design and spatial design, the lab will emphasize the importance of treating local and global issues in parallel and carry out activities such as international workshops, field surveys as well as actual design exercises.

赤坂喜顕研究室

Yoshiaki AKASAKA Laboratory

Research of comprehensive and Practical Architectural design theory connected Art and Architecture. For this purpose, design study through finding problem about history of Plastic theory "FORM" and "FORCE" on Art and Architecture. And study on architects and works of Louis I. Kahn and Mies Van Der Rohe, compared today with past times through architectural history, or compared architecture with painting and sculpture through art history. Research for diverse originality on Nordic Architecture about Östberg, Asplund and Aalto, or other frontier architecture.

吉村靖孝研究室

Yasutaka YOSHIMURA Laboratory

The laboratory conducts surveys, researches, and practices targeting intermediate areas in three directions: semi-movable architecture (between real estate and movable property), semi-urban architecture (between cities and buildings), semi-information architecture (between information space and real space). Our method actively exploits interdisciplinary fields that do not depend on the vertical administrative system, such as "building and machinery", "design and engineering". In addition to utilizing cutting-edge innovations in fields other than architecture to draw the future of architecture and cities, we also provide feedback from the architecture to other fields.
Urban Design
後藤春彦研究室

Haruhiko GOTO Laboratory

The laboratory advocates "Community Landscape Design" and conducts research and education in regional development and urban design. Waseda's traditional approach based on field work has been inherited. Attempts are being made to integrate and organize the results of community planning, which were frequently available only piecemeal. Tools have been developed to grasp the feeling of people's life with the lapse of time such as the "game of life for community planning" and "oral history of community planning", and applied to the design of specific public space.

有賀隆研究室

Takashi ARIGA Laboratory

The laboratory was established in the graduate course of Waseda University in April 2006. Research and education are focusing on the issues related to sustainable design and planning of urban and regional environments. Advanced researches include community planning and management through collaborations among municipalities and local citizens. Design and planning practices in various local regions focus on traditional socio-cultural spaces and land use management using ecological functions of farmlands, water-systems and green spaces. Strategic urban design assessment methods are developed using 3D visual simulations and GIS systems as an interdisciplinary method incorporating policy science.

矢口哲也研究室

Tetsuya YAGUCHI Laboratory

The Yaguchi laboratory studies on our surrounding urban built environment. Through understanding physical, social, ecological and technological underlying system of the cities as a whole, we conduct theoretical research and urban design exercises that focus on sustaining and enhancing built environment. Students are expected to acquire skill set required to propose/ visualize viable urban design ideas as professional specialists through research and design activities.
Structural Mechanics
前田寿朗研究室

Toshiro MAEDA Laboratory

The laboratory studies the mechanical properties of structures occupying large expanse of space. Analytical studies are based on the continuum mechanics, which are supplemented by micro-tremor measurement for verifiability of the research results. The present research themes include the modeling of subsurface structures based on wave propagation, failure mechanism of reinforced concrete shell structures, the modeling of historic masonry architecture, and so on. The objectives of them are to evaluate proper input ground motion to buildings, precise seismic resistance of shell structures, and reasonable repair method for historic masonry architectures.

早部安弘研究室

Yasuhiro HAYABE Laboratory

With the diversification of modern architecture, structural design is also demanded the diversification. And the development of seismic isolation and vibration control technology is indispensable to protect human life, property and buildings from a large earthquake and a huge typhoon. Our laboratory has established research on structural systems that integrates with architectural design and structural design method suitable for seismic isolation and damping structures.

吉中進研究室

Susumu YOSHINAKA Laboratory

The laboratory studies the mechanical properties of shell structures. Focusing on the relationship between the geometry and the flow of stress, the laboratory develops the basic technology to create novel architectural spaces. The foundation of the study is the basic theory of shell structures. The present main research themes are vibration control of shell structures, seismic reinforcement of structural and non-structural members using non-compression elements, the development of structural system using advanced materials and nonlinear vibration. The laboratory has many achievements for vibration control method using an additional mass like a TMD (Tuned mass damper).
Building Environment and Safety
田辺新一研究室

Shin-ichi TANABE Laboratory

Research focuses on architectural environment around people. Creating comfortable and healthy environment should involve the consideration of energy and environmental impacts. Topics include thermal comfort, environmental design, HVAC, indoor air quality, workplace productivity, lighting and façade, zero energy building and house (ZEB/ZEH), and environmental information. The laboratory has been interacting with a wide variety or research institutes and researchers in the world. Graduates are widely active in the field of environment and HVAC design and technology development. A lot of them become faculty members of the university.

高口洋人研究室

Hiroto TAKAGUCHI Laboratory

The laboratory conducts the researches on boundary disciplines with technology, users, habitant, design, and process management those based on the architectural and urban environmental engineering. We focus on the studies which the promotions of renewable energy in urban area, CO2 reduce type of redevelopment in shrink city, energy saving technology by communication, and energy saving and resource saving policy on rapid-growth Asian cities.

伯耆原智世研究室

Tomoyo HOKIBARA Laboratory

Physical behaviors of materials and structures in fire or disasters and evacuation behaviors of people are studied for architectural and urban safety design. Aiming to solve the ever-changing social environment and disaster prevention risks that have been overlooked by scientifically working on them.These studies are applied to the utilization of historic monuments, fire-safe design guidelines of advanced structures and development of pedestrian simulation system.
Building Engineering
輿石直幸研究室

Naoyuki KOSHIISHI Laboratory

The laboratory is engaged in diverse researches concerning the matters related to building materials and building construction methods such as the methods for selecting materials, performance evaluation of building components, addition of newly developed functions and enhancement of performance, diagnosis of deteriorated buildings, effective use of natural materials and industrial waste. Recent research themes include plastering technique on traditional clay wall construction, advanced utilization of earth material, long life wooden detached house, effectiveness of thermal insulation and solar reflection in flat roof waterproofing system and so on.

石田航星研究室

Kosei ISHIDA Laboratory

Our laboratory has research the efficient constructuction method.  In particular, we have research on planning method of construction, measurement and analysis of labor productivity in construction work, BIM (Building Information Modeling) and virtual reality safety training system for construction works.  All research themes consist research related to effiiciency of construction using ICT technology. (The figure shows a 3D model of traditional timber forwork and rebars)

山田宮土理研究室

Midori YAMADA Laboratory

Focusing on "handwork" such as indigenous buildings existing in various places and technical / decorative parts of buildings created by advanced craftsmanship. Materials, tools, techniques, backgrounds, and effects are considered based on experiments and field works such as measurements and interviews. We are also conducting research on how to use resources to achieve sustainable building construction and how to use materials in design.
Admission for Waseda Architecture
Department of Architecture has English based program for the internal students only from Master and Doctoral courses. If you wish to join Waseda Architecture from the undergraduate school, please take the entrance exam for the Japanese program.
English based program for Master student
English based program for Doctral student